CELEBRATING 22 YEARS of BROTHERHOOD!
ANNUAL LEATHER WEEKEND RUN on CHERRY GROVE, FIRE ISLAND, NY • MAY 19 • 20 • 21, 2017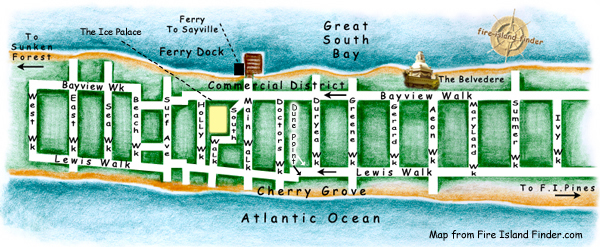 The Continuity of Brotherhood never ends as the Twilight Guard takes the reigns for the annual Leather weekend run on Fire Island. Twilight Guard is celebrating 22 years of Leather brotherhood and the community we are proud to be a part of, Leather, Feathers and Bears! Oh My! So ease on down the road, and join us in Cherry Grove, considered to be the foremost gay-friendly summer retreats in the United States. Cherry Grove is a traditionally LGBT, 41 acre enclave (meaning from bay side to ocean side is a 5 minute walk). If you have never had the pleasure of visiting Fire Island before, this is the best opportunity for you to do so! Come join the Twilight Guard and Excelsior MC for Leather, Feathers and Bears! (Oh My! ) This is definitely not Kansas.


An AMCC Sanction Event
Host of the 184th Council Meeting of the AMCC

There will be plenty of action to be had during Leather, Feathers and Bear! Here are a just a few of the highlights on the schedule for the weekend:
Friday, May 19 at the Ice Place

Excelsior MC Bar Night — It wouldn't be a Leather run on Fire Island without the men of Excelsior MC behind the bar at the Ice Palace Friday night!
Master/slave Auction for Charity, hosted by Porsche. The auction for charity is open to all, and you can sign up at anytime during Excelsior's bar night. To get in on the action you need to purchase Daddy Dollars for charity, So Buy those Daddy Dollars!!!
Saturday, May 20 at the Ice Palace
The 17th Annual Mr. Fire Island Leather Contest, hosted by Ariel Sinclair.
MR. FIRE ISLAND LEATHER is chosen by a panel of independent judges who are titleholders or prominent members of the leather community. Making their selection, they consider a contestant's appearance, attitude and personality — not necessarily the most handsome or muscular body. Contest is open to all.
Run Registration fee are per person and include 5 meals, run pin, access to all planned activities, events & much more! The registration fee does not included accommodations, which is the sole responsibility of the run attendee. For accommodations information please see below.
Regular Rate $140.00  — Mail in deadline is April 1, 2017
Late Comers Registration Rate is $150.00  — April 1, 2017 until day of event. For regular rate of $140, registrations must be postmarked no later then March 31, 2017. Cash only accepted at time event with email confirmation that you will be attending, and paying the registration fee in cash at time of arrivial.
Click for Twilight Guard's Leather, Feathers and Bears! Run Registration mail-in PDF
ONLINE REGISTRATION

IS NOW CLOSED
Please be advised, that the online service has a $5 dollar surcharge for each registration.
Last day to registrater for the weekend event online is May 10, 2017.
Belvedere Guest House For Men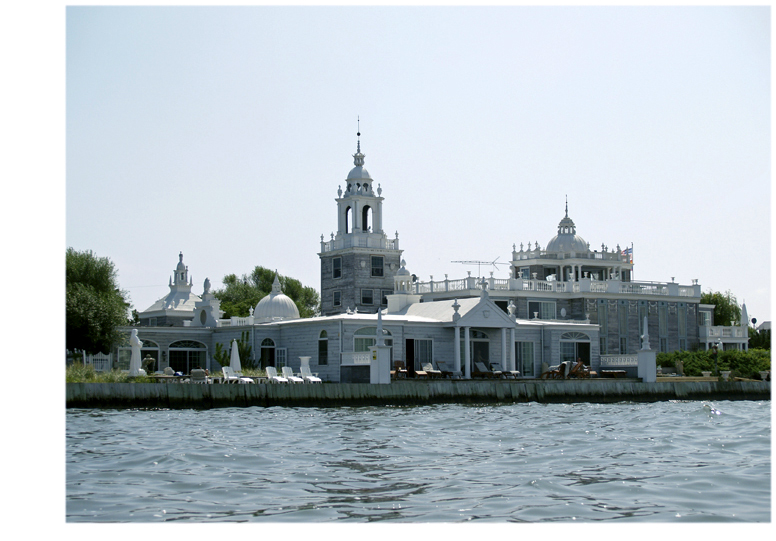 Our host hotel is Fire Island's premier accommodation, located on the bay front at Cherry Grove, near the infamous Meat Rack, and a few minutes to all destinations during the run. It is in the style of a Venetian Palace, with terraces, towers, domes, statuary, antiques and fountains. A roof-top terrace and bay front deck affords spectacular views of the Great South Bay, the ocean, and towns; sunsets are magnificent. The Belvedere offers sun decks, swimming pool, hot tub, a gym, high speed wireless Internet connection, and a television room. Best of all, there are no restriction on nudity!
Please call The Belvedere directly (631) 597-6448 and/or visit their website: belvederefireisland.com
When making your reservations please use the promo code: Excelsior/Leather for discounts on the room rate for the weekend. Please be advised, the Belvedere is Men Only for accommodations.
As of March 23, 2017 the Belvedere is SOLD OUT for the weekend of the run.
The Dune Point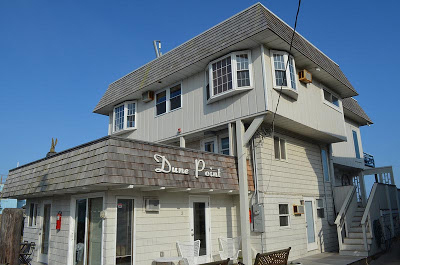 The Dune Point may be our additional accommodations for the run, but is in no way second best. The Dune Point welcomed us with open arms when the community lost the Grove Hotel and other local properties in the fire of 2015. The Dune Point is one of Fire Island's historic guest houses located near the heart of Cherry Grove. Only steps away are the beach, restaurants, shops, bars and ferry. The staff of the Dune Point will make sure your weekend stay is a memorable one.
Please call The Dune Point directly (631) 597-6261 and/or visit there website: dunepoint.com
When making your reservations please use the use promotional code: Leather30 for a 2 day or use promotional code: Leather50, for 3+ day stay. Women and Men Welcomed.
Accommodations are not included in the Registration Fee and must be made on your own, through either the Belvedere or the Dune Point.
RESERVE YOUR ROOM EARLY, ACCOMMODATIONS GO FAST. Please call the hotels directly or book your room online. Please note: That reservations are not able to be made from (either online or calling the hotels directly) through the months of November and December, but will resume in January.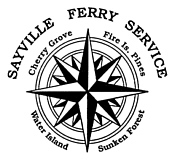 Don't miss the ferry, You need to take the ferry from Sayville, NY (41 River Road, Sayville, NY 11782) across the bay to Cherry Grove. The Ferry schedule is very limited during this time of season of the run. You can check on the ferry schedule by visiting the Sayville Ferry Service website, as well as get directions to the Sayville ferry pier and parking lot. One other thing to remember, you are going to Cherry Grove and not the Pines (common mistake).
Cocktails Parties: If your organization would like to help us celebrate by sponsoring a Cocktail Party, please e-mail Victor at vic400@aol.com or Sean at Metallyon@aol.com. We have Friday & Saturday After Hours, Saturday Eye-Openers, additional Saturday Afternoon Cocktails & Saturday Pre-Dinner..
Run Pack: We will be supplying each Leather, Feathers and Bears! registrant with a run pack which will include a run schedule, vouchers, safe sex kits and other items of interest for our guest during Twilight Guard's Leather weekend run.  If you are a club, business or just personally want to contribute to our run pack, please contact Victor at vic400@aol.com or Sean at Metallyon@aol.com for details! Deadline for run pack contributions is May 1, 2017.
Questions? If you should have any questions regarding any aspect of the run, please do not hesitate to contact Victor at vic400@aol.com or Sean at Metallyon@aol.com. We will answer your question(s) in a timely matter, or if you need to speak with a live person, we will contact you at a reasonable hour of the day, please let us know in your e-mail: where and what is a good time for us to contact you.
Updates and Announcements: We will be making updates here on our website, as well as on our facebook events page as they become available. The Twilight Guard are looking forward to you joining us, and help make the celebrations to our anniversary a memorable one.