NEWS from the TWILIGHT GUARD & BEYOND
The Twilight Guard has produced a club newsletter the Guard Post for over fourteen years, providing our fellow leathermen and bears with quality information regarding ourselves, the community and topics of interest. The explosion of Web-based blogs, the Facebook revolution and lack of leather-related news caused the newsletter to be moved to the back burner for a while. Even though there seemed to be an endless stream of general news, posts and blogs, we had reached the level of media saturation where most news and information gets lost in the shuffle, and may never be seen by those for which it was intended. So now we are reintroducing the club's newsletter (Guard Post Online Edition). The Guard's plan is to keep articles published up for at least a month, so it is available for readers to peruse.
Somewhere Over the Rainbow
May 2017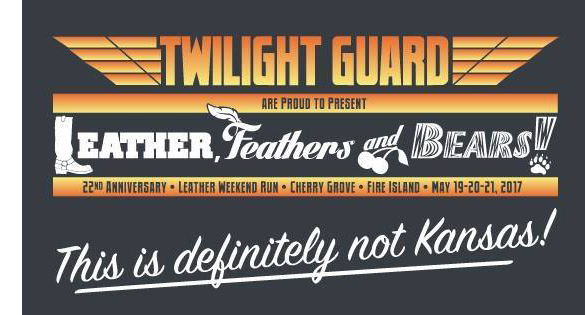 Drama. Drama is something you really do not want to deal with when hosting a weekend destination run.
 
Personal drama? Sure, why not -  as long as it's not your own and you can sit back and judge. Unfortunately this was not the case. One does not wish to find out that one of the major venues willnot be opening for the weekend with guests scheduled to arrive in just an hour. So - of course! -  drama.

A moment of drama? A few minutes of drama? All quite acceptable under the circumstances, but once others start talking about horse tranquilizers, the drama must end and solving the problem must take precedence over one's own personal outburst (though it admittedly feels good and quite healthy to scream at that moment).
 
So on with solving the problem, This is where one, if ever, has the good fortunate to discover that Cherry Grove, Fire Island istruly a supportive and wonderful community. As one very notable person said: "We got your back." And that they did. Within the hour the problem was solved and anything that had to be sacrificed for the good of the run went unnoticed by any of the attendees.
 
Welcome to Leather, Feathers and Bears! Oh My!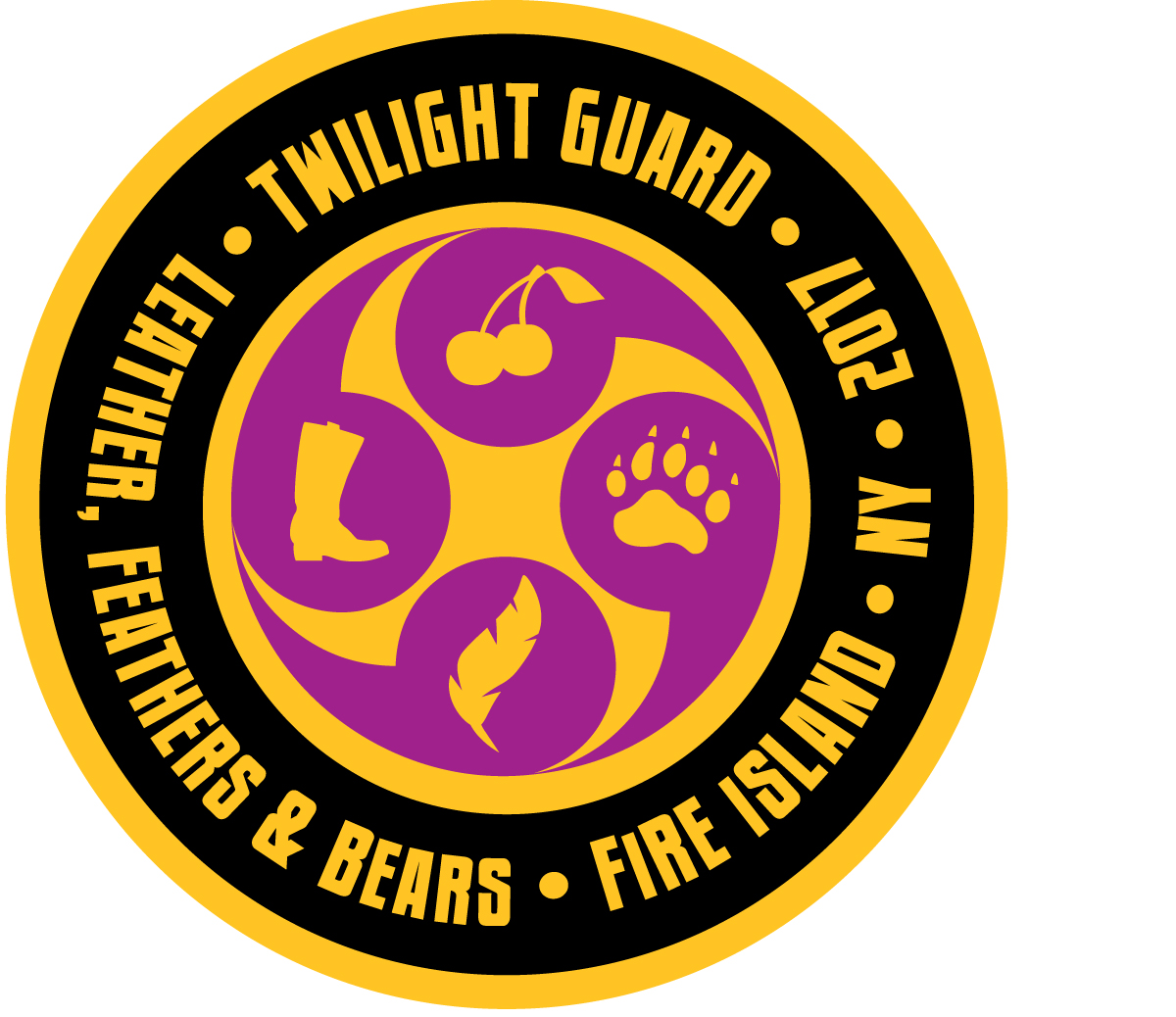 With the crisis averted, it was time to let the fun and mayhem begin and enjoy the Twilight Guard's 22nd Anniversary Leather Weekend on Fire Island. Time to go down to the dock and meet the arriving ferry loaded with guests, greet old friends with hugs, smiles and kisses (like nothing has happened) and escort them to their accommodations for the weekend, although a few persons did manage to get lost trying to reach their hotel. How this is possible since it is such a small island, one cannot say, but it does happen and makes for such a great little story.
 
Not bothering to go into too many specifics about the afternoon gathering during registration in the courtyard of the Belvedere (but will offhandedly mention that some of these boys had bigdick.com beat by a mile), or other details, such as food, wine and men at Grove Pizza in the early evening. The food at Grove Pizza, though, was really good - if you get a chance, have a slice of the Bacon Cheeseburger pizza - you absolutely can not go wrong there. If you do order a slice, ask for knife and fork.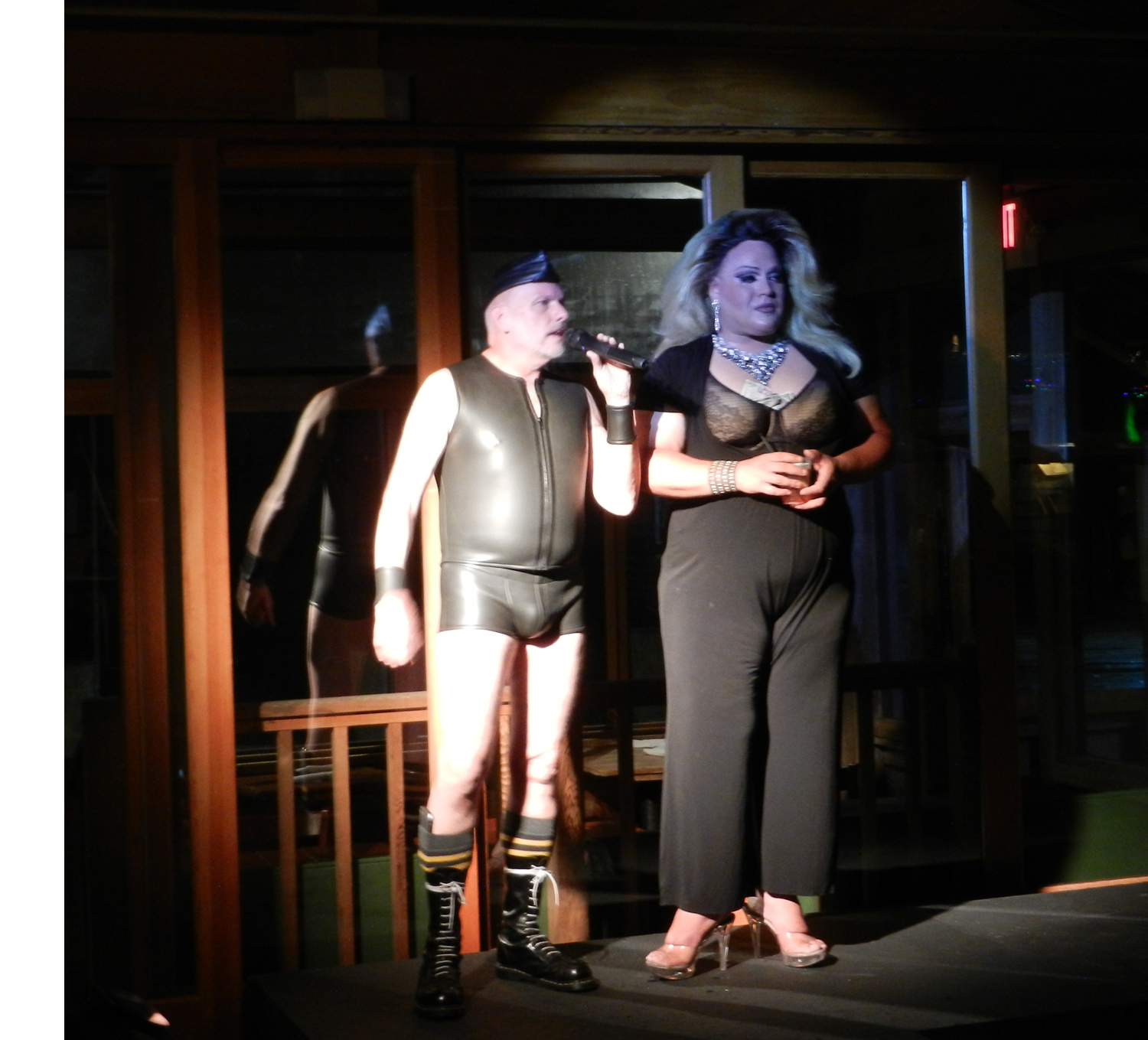 After the buffet (and a brief rain shower) it was a hop, skip and a jump to the Island Breeze, where the Master/Slave charity auction was hosted by the legendary Porsche and Mark N. Mr. FI Leather 2012. Porsche started off the evening festivities belting out Diamond Dame's classic "Big Spender" and whipping up the crowd to spend "Daddy Dollars" on the twelve people up for auction that evening. Some notables who were on the auction block were hunky Bay State Marauder's President Jonathan K from Boston and a four former Mr. Fire Island's as part of a FI Leather package deal - Jeff G., Mr. FI Leather 2005 , Diego V., Mr. FI Leather 2007, Mark N., Mr. FI Leather 2012, and Edd C., Mr. FI Leather 2015. The auction raised $500 which will be given to a charity of Excelsior MC choosing.
 
After the evening entertainment at the Island Breeze, it was  late night cocktails with the Long Island Ravens MC back at the Belvedere, the host hotel for the weekend. If you haven't had the good fortune to stay or visit the Belvedere, it is best described by a member of the Philadelphians MC many years ago: "Hogwarts meets a bathhouse." Let that one sink in, and you still may not get it right. After some twists and turns to the bayside hallway - gasp! - the door  to the cocktail party was closed! Seems it took a little bit longer to set up then expected and the hallway backed up with men who, after feeling like the wait had been too long, started chanting "We want cocktails!" Magically, the door opened to reveal the members of the Long Island Ravens decked out in vest, jocks and wings!? Yep, black wings strapped to their arms, just like the Falcon (the comic book version, not the movies, big difference there).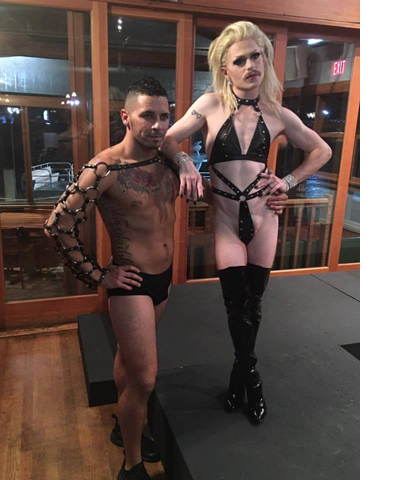 Oh? Were the feathers mentioned? The L.I. Ravens decorated the bayside hallway with loose feathers of every color. Yep, there were feathers, lots and lots of feathers. Let's discuss the feathers. There were feathers everywhere - feathers discovered as far away as ferry dock, feathers on persons in different places, feathers in other hotels. How they got there, nobody knows, but the feathers in "Leather, Feathers, and Bears!" was covered.
 
Sadly, Saturday was not as everyone had hope, as Friday had been 94 degrees and sunny with blue skies and Saturday was overcast, dreary and cold. This did not put a damper on the merriment of the weekend - folks were off to Floyd's for breakfast, attending Excelsior's eye opening cocktails poolside at the Belvedere or doing both with everyone making the best of the day. One the highlights, and greatest use of local resources, had to be how guests found their way to the Cherry Grove Community Arts Center for its annual flea market. Think of it as a uber gay tag sale, and underline uber and gay. Stories were told of attendees trying to hide from prying eyes their newly-found treasures from other shoppers until they could be safely returned  to hotel rooms for later use that afternoon. There are a few rumors of "It's mine!", "I saw it first!" and other true tales of gay shopping, but that will be left for another run's cocktail party.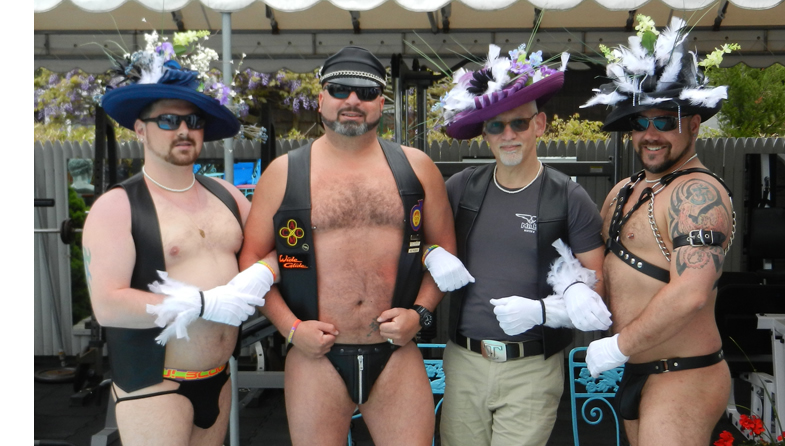 Speaking of cocktails, back at the Belvedere, the afternoon parade of mixology start off with the Boston Ducks - decked out in some of the most adorable pastel-colored Sunday Easter bonnet hats not seen this side of Keeping Up Appearances - serving an emerald green concoction out of a small inflatable pool. You would be correct if you were to guess that the hats were one of the great finds at the Cherry Grove Arts flea market. After leaving the Boston Ducks in the courtyard with a smile (translate: buzz) it was to the pool area for cocktails with Empire City MC. Now this was no ordinary cocktail party, but a TFL (The First Lady) tea, and not a Guard member TFL either, but the new President of the AMCC Evil Ed's partner Tony. An AMCC TFL tea has not been held for quite some time - no known reason why, just one of those old customs that been lost over time. Tony brought the old tradition back in style and grandeur, with muscle boys deck out in ladies hats (think of the movie The Women, thanks to a hot glue gun, and, yes, more Cherry Grove flea market finds) white gloves, jock straps and harness, serving Long Island Ice Tea and canapés. If you are wondering if there was a tea set, yes, there was and there is a bit of a story there as well...one better told by Paul R. of the DC Bear Club.
 

After a nap, a shower, a shag, a costume change or any combination thereof, it was back to the bayside hallway for pre-dinner drinks with the Harbor Masters of Maine, who, as everyone else seemed to have done, found some great items for sale at the Cherry Grove Arts flea market to use at their cocktail party. What the Harbor Masters purchased and wore for their cocktail party is best described simply as Carnival in Brazil. The color, the beads, the feathers, the bare naked skin - one was half expecting a parade of dancers to strut down the hallway to sound of Samba music. After some wine tasting, a beautiful spread of fruits and cheeses, and naked waiters serving hot hors d'oeuvres, it was off for a wonderful meal at the Island Breeze, which was finished off with a very well-received cheesecake that was the talk of the dinner. After more desert consumption at the Sweet Licks Ice Cream parlor (don't you just love those unscheduled ice cream socials?!) it was a costume change and return to the Island Breeze for the 2017 Mr. Fire Island Leather contest.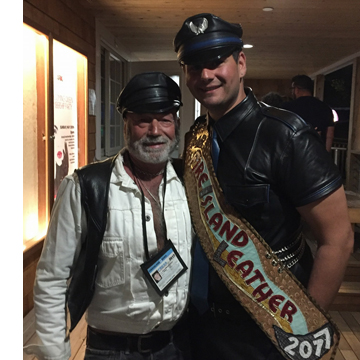 Returning for the festivities was singer extraordinaire Porsche, as well as Chuck McTague, who had DJ'd the evening before at the Master/Slave auction. Also returning for a second year as co-host for the contest was 2015 Mr. FI Leather Edd C. Will this lead to regular Master of Ceremonies for Edd C? Time will tell. Judges for the contest were former Mr Fire Island Leather winners Bruce Michael G. (2001), Jeff G. (2004), Diego V. (2007), Mark N. (2012), and Victor S. (2014), as well as custom leatherwear designer David Samuel Menkes, designer of the Mr. FI Leather sashes and vests (and past designer of sashes for the Guard when the club produced the Mr. CT Leather, Bear and Drummer contests). The two contenders for the sash were long time Cherry Grove partisans Rich and Joseph (a new member to join Excelsior MC), who were judged in categories of appearance and preparedness in Dress Leather and Interview; Cruise Wear (jockstraps and leather gear with questions from the emcee and judges) and Erotic Fantasy, which involved a scene that the contestants either acted out or described. The Erotic Fantasy portion was quite entertaining as both contestants' fantasies were at opposite ends of the spectrum - Rich described a water sports experience while Joseph acted out an encounter with some interesting "animals" in Fire Island's meat rack.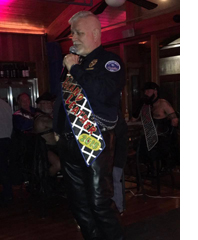 Between contest segments, the audience was entertained by musical numbers from Porsche, singing "The Showgirl Must Go On," co-host Edd, performing a tongue-in-cheek "The Morning After," and Bruce Michael, singing "Someone to Watch over Me." While the scores were being tallied by Ice Palace/Grove hotel assistant Wendy, Excelsior MC President Gabriel offered his view of the "Leather journey" that an individual embarks upon, and the support one can receive from the leather community. Finally, the moment everyone had been waiting for arrived, and the winner was Joseph! Congratulations, Joseph - all the best in your title year!
 
After the contest, it was back to the Belvedere for more revelry with the Bay State Marauders, who took the theme "Leather, Feathers and Bears!" to the hilt, as they presented a cocktail party best described as "Ease on Down the Road." There was a tin man in silver briefs and chrome arm bands; a wicked witch with a hat, green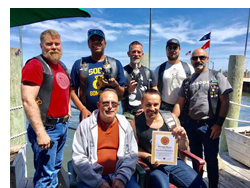 mask, harness and nothing else; a scarecrow in a leather hood, apron, some straw and not much else; and a good witch with a mile high rhinestone tiara that wasn't procured at the Cherry Grove Art flea market! Kid you not. Apparently, the tiara in question is something that the particular Bay Stater who portrayed the good witch just had lying around in the closet...just sayin'. Emerald City Punch was served with much delight, along with an abundance of munchies, and thanks to its "magical" qualities, it wasn't long until attendees got into the spirit of things and participated in the Belvedere's clothing optional policy. Some never made it to the available playroom, showing off their talent, with others demonstrating they had talent to spare.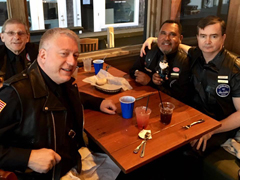 Sunday morning came too early, but the end of the run had arrived. Folks packed their bags, checked out of their rooms and made their way down to the Island Breeze for closing ceremonies and brunch. As customary for such events, certificates of appreciation and thanks were handed out to people, businesses and clubs who supported the Guard throughout the weekend event. Notable were Victor and Gabriel of Excelsior MC; Island Breeze and Porsche for their extraordinary support. The Guard was happy to give the distance award to Jay and Wes of southern Florida who made the journey up to the cold north to attend the run. The participation award was given to the Bay State Marauders for the most members on the run and also Spirit of the Run award, which is given to a person or club who have takes an idea, theme, and spirit of the run and expresses it for all its worth. All of the clubs who hosted cocktail parties during the weekend deserve mention - they did amazing job and we appreciate each and every one of them.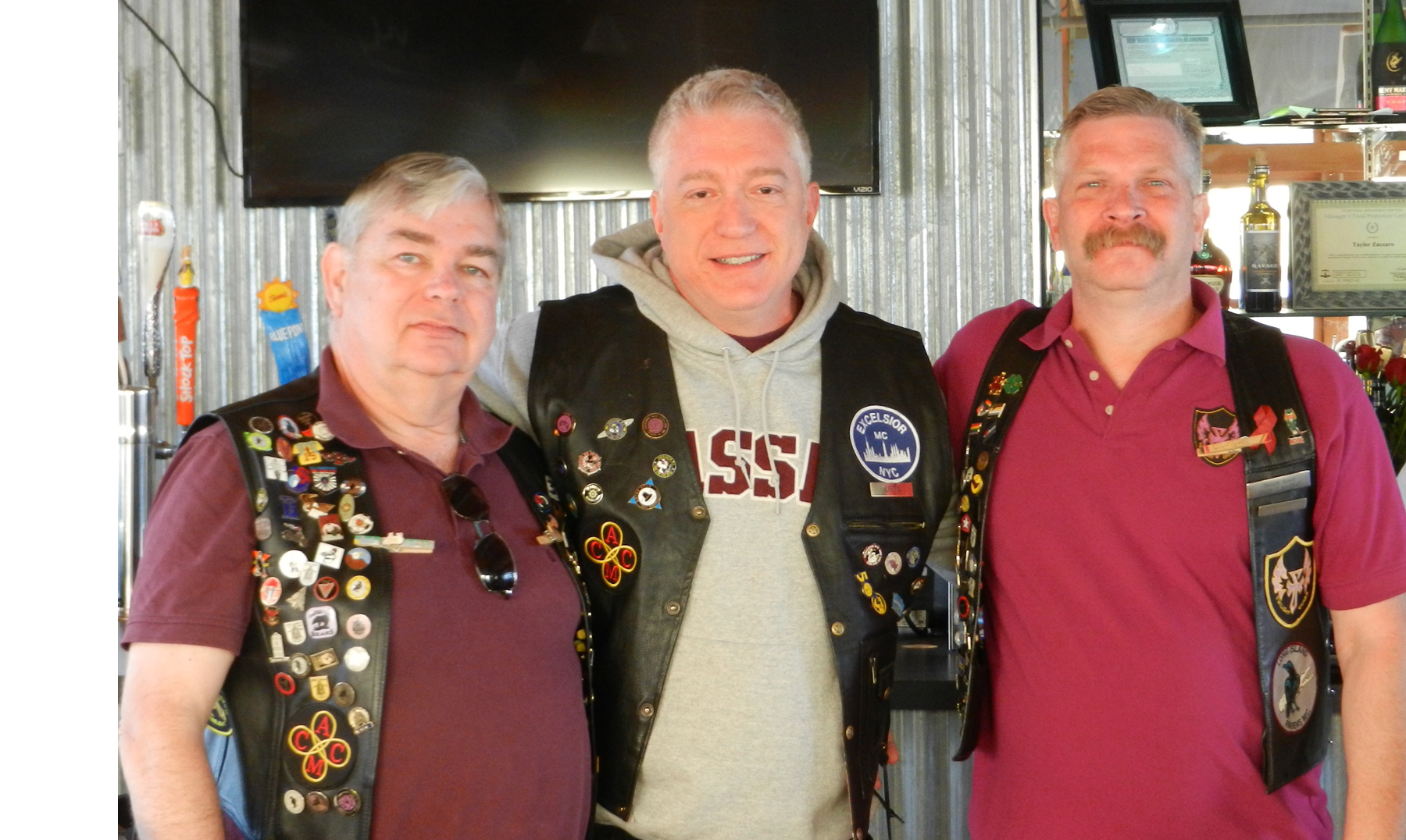 The last item of the closing ceremonies has become something of a custom for the Guard over the years. Following in the footsteps of our brother club, Excelsior MC, the Guard inducted new honorary associates to the club. This year, the Twilight Guard were honored to be joined by Paul R. of DC Bear club (which was a long time coming - sorry for the wait, Paul); Jeff G of Excelsior MC.; Brad F-S. of Harbor Masters of Maine; and Dougie and Richard of Centaur MC. We welcome you all, as we are proud to call you brothers.
 
As the weekend started so did it end, with tears and little breathes caught in the throat. People lined up to get a last-minute ice cream before catching the ferry back to the mainland. Goodbyes were said, hugs and kisses exchanged, wishes for a safe journey back home were conveyed.
 
They say hindsight is always twenty/twenty. That may not always be true, but in this case, all the drama was worth it. Thank you all to our guests and the wonderful community of Cherry Grove, Fire Island. We will see you again.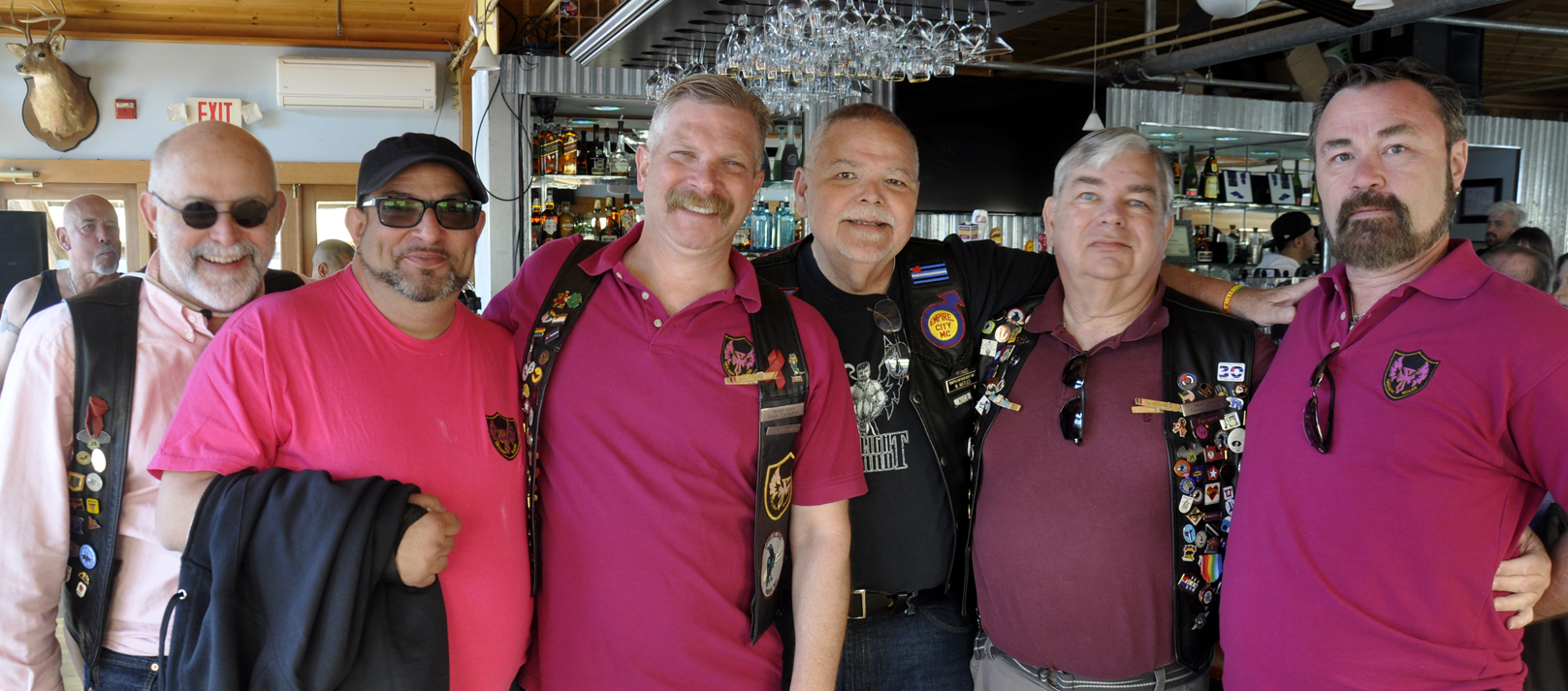 Photos courtesy of Tim of the Twilight Guard. Ed of the Empire City MC, Scott of Bay State Marauders, and Bruce Michaels.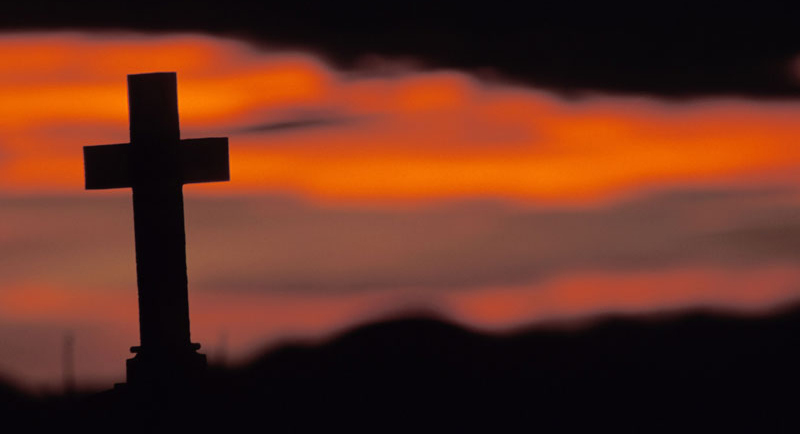 A Dying Breed
November 2015
We have all seen the postings on social media or had brief conversations of this or that bar closing. It was sadly becoming the status quo there at the start of the year. We blamed the closings on hookup apps and the gay community finding acceptance in straight society. However come spring of 2015, there was a new line of conversation being held; we were talking more and more about the status of our own and other leather and motorcycle clubs closing up shop and calling it a day.

In May the Rocky Mountaineers Motorcycle Club of Colorado (established in1968) announced they were officially retiring their colors, liquidating their assets and ceasing all operations. For a few of who are old enough, or have been around the leather scene long enough to remember the Rocky Mountaineers, this riding club was considered a great bunch of guys who used to travel extensively during the 70s and 80s, and their hospitality was legendary. Should you be traveling through Denver area and give them a head's up you were coming to town, they'd come out en masse to welcome you to the Mile High City. If you never got a chance to travel to The Centennial State and meet the men of the Mountaineers, you missed an amazing series of events at the Triangles Bar, and the Golden Fleece Run. In their announcement of retiring, the Mountaineers made a statement that would come to be echoed time and again by others who would be making the same journey in to the pages of gay history… "Our membership has changed too. Some members have developed other interests, some have moved away, many have grown frail, and many have passed on. The club lost a lot of members over the years, unfortunately we haven't had much success attracting and retaining new and younger members. It breaks our collective hearts to admit we simply don't have the membership to continue operations."
Some clubs never even got a chance to take their final curtain call. This is what happened to DC Boys of Leather, one of the most significant clubs in leather history and the leader of the boy culture in the leather community. When the end came for this band of brothers, there was nobody left to say goodbye or truly say the end had come. All that was left was to announce their retirement in a posting on social media in June...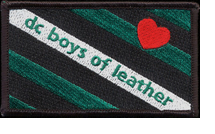 "The dc boys of leather's legacy is undeniable. Boys' clubs continue to form nation wide and fulfill their community's need for a safe space for boys. The ultimate reason a boys' club ends is because it has fulfilled its purpose for its members, its community and because its members have outgrown their need for the club. I believe that the last few years have shown this truth for The DC boys of Leather. Perhaps it is only because of our legacy that it has been so hard to let go.
I am proud of my time with the dc boys and of our contributions to boy community. I look forward to seeing new clubs from and new boys find their homes.The DC boys is moving to an inactive status, not because the club failed, but because our members have moved on to new priorities. I see that as a success. Many boys struggle to find their way. Although our organization ends its journey, for now, our members will still be around helping out wherever they can. From me, and the from members of the DC boys of Leather. I look forward to new adventures, new mischief, and new growth."
- boy jason, past president of the DCBOL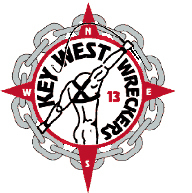 Soon after the Fourth of July, the Key West Wreckers announced that they where disbanding, yet again for a lack of participation. In the words of the former president J.T. Thompson, of the 25-year-old organization, "The Wreckers were down to eight members and sometimes with only had two active members to run events, so it was untenable. From the looks of things here (Key West, FL), people socialize online, not in person, and not in clubs. The Knights d'Orleans and other clubs are gone for the same reason. I wish I had better news from your Leather Brothers in Key West, but the times are a-changing!" The Key West Wreckers Leather/Levi Club was founded in 1991 by men in the Key West community who shared a similar interest in leather and levi. They shared a brotherhood of friendship, a commitment to contributing to their Community and an ongoing effort to educate leathermen and leatherwomen in their pursuit of safe, sane, and consensual adult sexual expression. They, and the many other disbanded clubs shall be missed. We are truly an endangered species." Over the twenty-five years of operations, the Key West Wreckers had raised over $350,000 for local and national charities.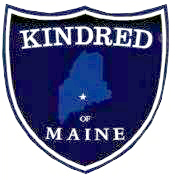 After eighteen years, Kindred of Maine have disbanded, as Kindred's President Mark Fish so eloquently said "Kindred has come to its natural end, but the people and the spirit that comprised Kindred still lives." Kindred, founded in 1997, held the club's final meeting at the last Kamp Kindred (their annual run) in July. Mark and Russell have been the life blood of Kindred all along its journey. Now laying out the plans for retirement they both feel the Club's membership is hard to maintain without the aid of a host bar. PJ's (Papa Joe's) in Augusta closed it's doors several years ago which began a search for a new host bar in the Central Maine area. Though attempts at doing so moved the Club to the Lewiston/Auburn area along with the attempts of friendly bar entrepreneurs to operate a successful gay bar all proved fruitless. The Mark and Russell graciously opened their home to monthly meetings and get-togethers to keep Kindred going. But times passes, and people grow older, Mark and Russell have retirement plans and since there were no others to take over the organization forward, the conclusion was reached that Kindred of Maine must come to an end. In October, during the Harbor Masters of Maine annual Sailaway weekend run, held in Ogunquit, ME celebrating the club's thirty-third anniversary, the Harbor Masters offered a handsome tribute to Kindred, thanking Mark and Russell in the highest esteem for all their work and efforts at serving the leather community over the years.
Truth be told, it's unknown how many others leather/levi motorcycle clubs has retired their colors in the past year, fading away to be nothing more then a distant memory or an entry in the gay history pages. In the age of the internet and the rise of gay and leather acceptance in mainstream society, many clubs cannot entice new members to join as the older members retire or move away. In the march of progress many of our former meeting grounds are disappearing, and without these venues the opportunity for meeting those who are like minded and would benefit from the camaraderie and the bonds of brotherhood that club life can bring those who take part are now lost. The internet is a cold and lonely place, though many believe that social media is the great meeting place, it's antiseptic and antisocial, keeping many of us apart and at a distance. As noted, it is unknown how many other clubs have disbanded, because not everything is written in a blog. It is sad to say farewell, and many did not get the opportunity to do so, but they will for many be remembered with great joy.
Time to Celebrate!
May 2015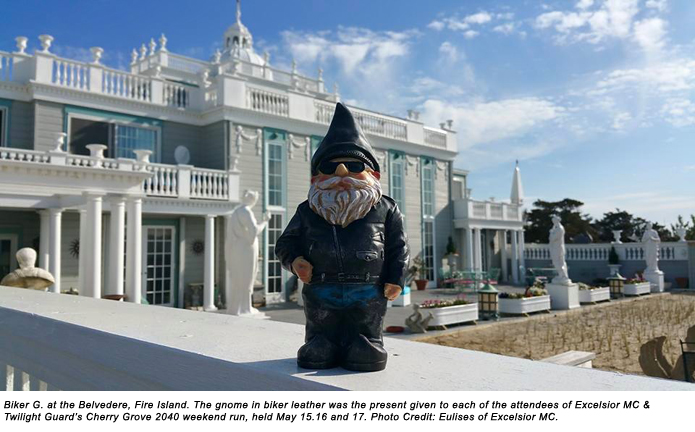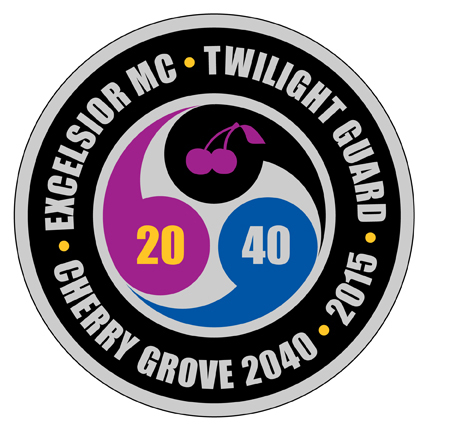 Adversity is nothing new for the Twilight Guard, we have faced it before and, before we are done, we will face it again. The same can be said for our fellow brother club Excelsior MC. What we never expected while preparing for our joint anniversary run in May, were the early morning calls informing us of a fire in Cherry Grove, and that the Ice Palace had burnt down. Calling back and forth trying to get a real idea of what was happening, it wasn't until the smoke had cleared (literally) that the truth was known, and even then it wasn't until a personal visit to the island that the facts settled in.
There is still some speculation on what caused the fire in the early hours on March 27, but that doesn't change the fact that the Grove Hotel and the entire area of Holly Walk, which included Holly House apartments, and two (luckily) unoccupied homes were gone and burned to the ground. We now faced an incredible situation for the hamlet, which is only 41 acres. Our second host hotel was gone, where were we going to house everyone attending the run? Once we decided to forge ahead with the run, we began a series of phone calls and e-mails contacting all the right people to make alternative housing arrangements, trying to keep everyone up to date with the facts as they emerged. In the end, anybody who needed accommodation for the anniversary weekend was able to get it. In the end, 78 people attended the run, pretty much a full house.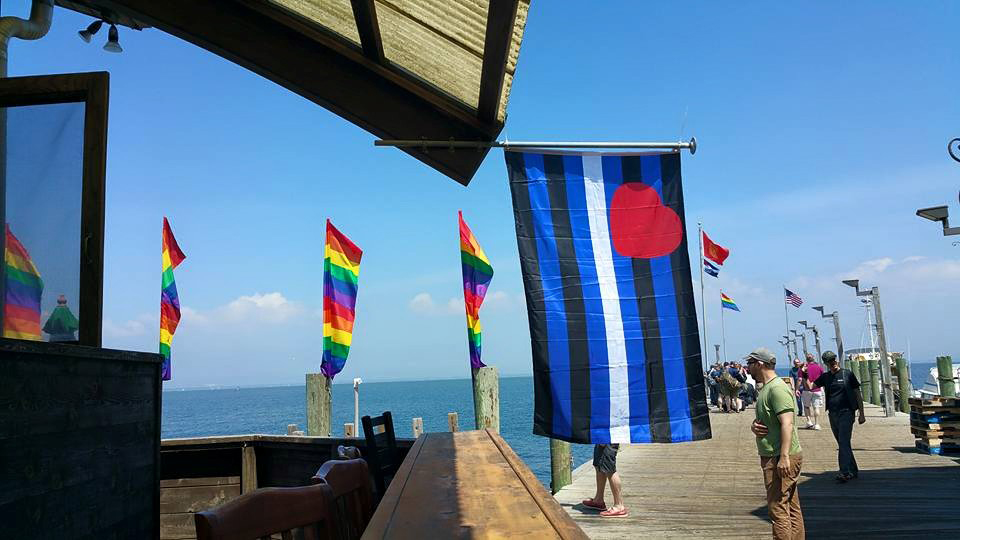 With the housing issue out of the way, we turned to other consequences of the conflagration. (The fire also knocked out two of our other vendors.) And thus Plan B was hatched, leading to a slight variation on Cherry Grove runs of the past. Plan B allowed the two clubs to present a run celebrating the Twilight Guard's 20th anniversary and Excelsior MC's 40th anniversary.
After all the preparation, the day of the run arrived. Supplies were ferried over in the early morning, ice, beverages and coolers were gathered in. Run packages were assembled and decorations were hung, giving the Belvedere an Asian garden make-over. The real party began when the noon ferry disgorged many of the guests for the weekend. Guests were escorted to the Belvedere, Dune Point and Horizon Beach House. The latter two guest houses were new to us, and they performed admirably.Two of which, guest and club members where visiting for the first time. This rhythm of meeting the ferry and escorting guests to check in repeated itself over the course of the day.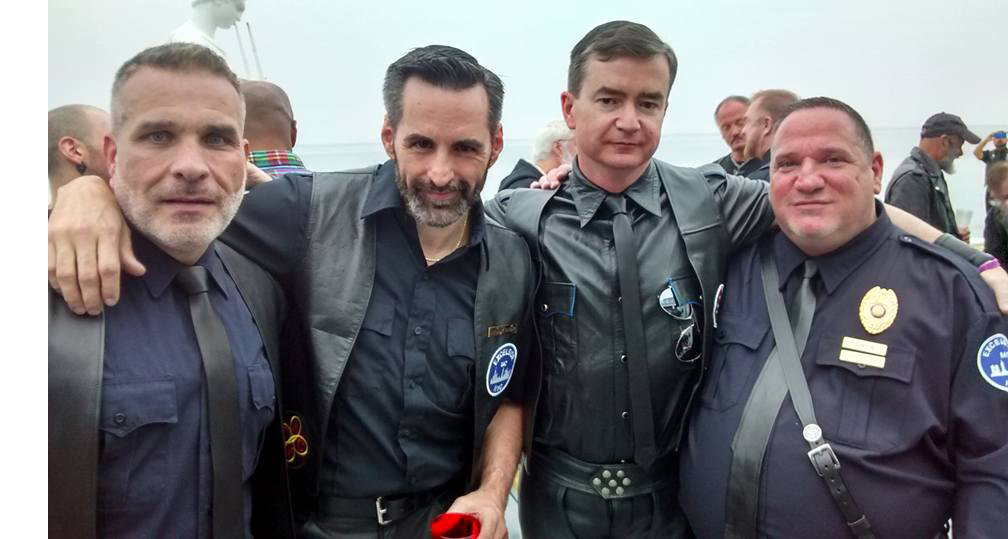 After settling into their accommodations, guests made their way to the Belvedere, the host hotel, for registration, conversation and beverages. The Friday afternoon offered sunshine and blue skies, perfect for gathering with friends old and new. Topics of conversation ran the gamut, though the fire six weeks before loomed large. Many guests used their time to inspect the damage firsthand, or as close as the police tape would allow.
Seguing from the Belvedere, it was time to head over to the Island Breeze for the evening festivities. Kicking off the evening was Excelsior MC's bar night with C.B. and the Guard's own Michael behind the bar. Turns out it was Michael first time tending bar, and from the feedback, he did a fine good job. Thanks for pitching in Michael. The Breeze's kitchen presented our guests with an italian buffet of ziti, eggplant, sausage & pepper, chicken francaise, salad and bread. Then came introductions, welcoming guests to the anniversary weekend were Excelsiors MC's president Victor and Twilight Guard's president Sandy, both of whom gave heart-felt thanks to those attending the weekend. Mr. Fire Island 2001 Bruce-Michael did the honors of introducing the clubs for the parade of colors. Clubs represented that weekend include: Bay State Marauders, from Massachusetts; Bucks MC, Pennsmen, and Philadelphians MC from Pennsylvania; Centaur MC and DC Bears Club, from Washington, D.C.; Empire City MC, Iron Guard BC, Long Island Ravens, and New York Pups and Panhandlers, from New York; Harbor Masters of Maine; and Shipmates Club of Baltimore, as well as hosting clubs Excelsior MC and Twilight Guard.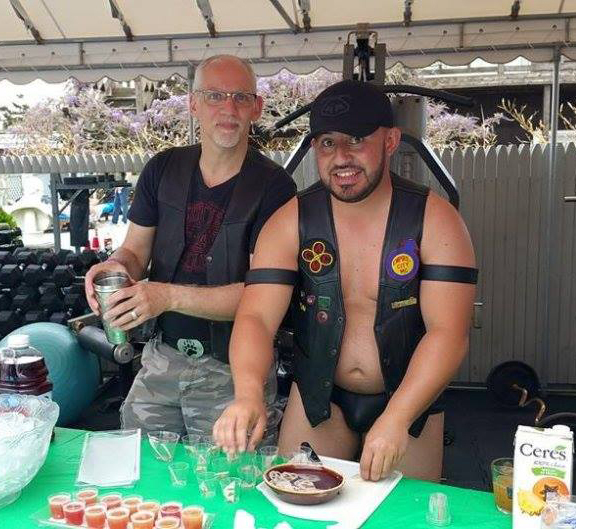 Singer Porsche and Island Breeze Manager John Doyle co-hosted the Annual Master-and-slave auction, seventeen men and one woman were put up on the block for sale. The auction netted proceeds of $500, slated for donation to the Cherry Grove Volunteer Fire Department, to assist in purchasing a new fire truck. We'd like to thank everyone who took part in the auction, as well as the audience: the evening's benefit wouldn't be a success without you. After the auction, it was back to the Belvedere for late night cocktails hosted by Bay State Marauders, severing a drink called Red Lotus cocktail, served au naturel. Thanks, for the drinks and the great scenery, Marauders.
The rains came in for a few hours, but didn't seem to dampen anyone's spirits as many made their way to Floyd's for breakfast or to the Belvedere for eye-openers with the Pennsmen (Bloody Marys and Scewdrivers). A few late-comers made their way to the Island on the morning ferry for the AMCC meeting. Just a side note from the meeting. Congratulations to the Guard's president Sandy, for his re-appointment as Secretary of the AMCC. After the meeting, club representatives emerges to blue skies and lunch, New York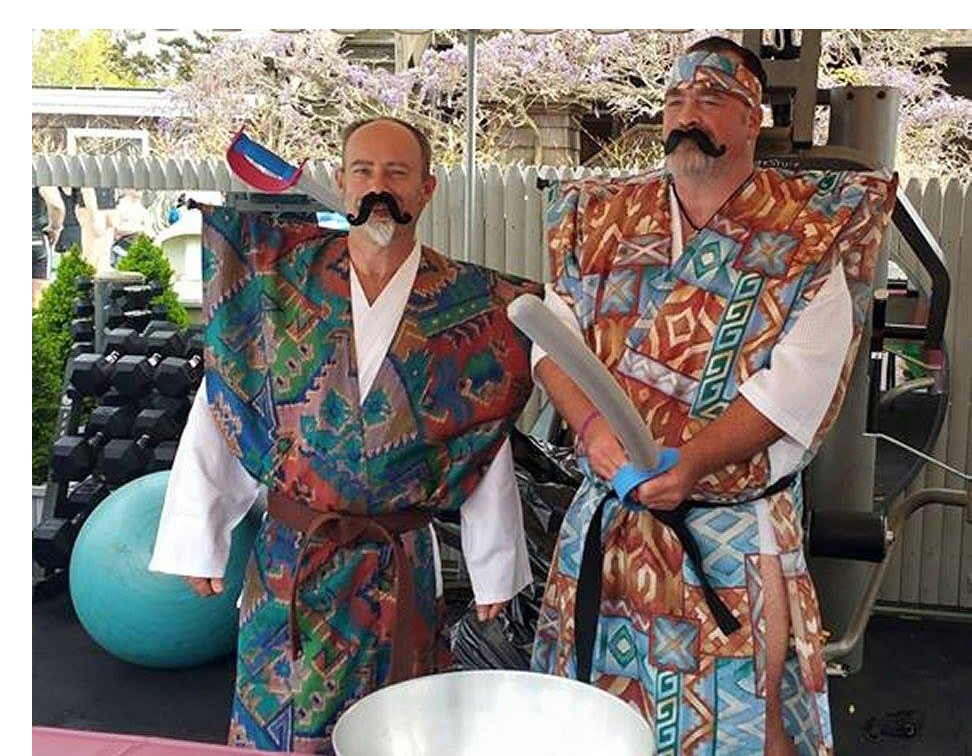 deli fare from Reggie's market, served poolside at the Belvedere. Following was Empire City MC's cocktail party, who served an asian fruit shot, which struck just the right note, as well as delicious dumplings steamed on the premises. A special thanks to the tiffles K.K. and Tony of ECMC who did a great job as usual putting on the cocktail party. Making an entrance to thunderous applause was the Long Island Ravens MC, who gave us Carol Burnett's classic "Gone With The Wind" meets samurai! And yes, there were even curtain rods! You couldn't deny the belly laughs the cocktail party provoked, winning the Ravens the Spirit Award on Sunday. Thank you for catching the spirit and the laugh.
Before long it was pre dinner cocktails with the Harbor Masters of Maine, who gave their over-the-top party of wine- and cheese-tasting. Included were three wheels of brie with the logos of the two host clubs and the anniversary weekend. Victor and Sandy, presidents of their respective clubs, held a ceremony of cutting the cheese. The Harbor Masters' antipasti included naked waiters from the staff of the Belvedere with hot Hors d'oeuvres. Before the party wrapped, the installed a portable glory hole with velvet patting and knee pillow, enough to make any catholic priest green with envy. The we all made our way to formal dinner at the Island Breeze. Our compliments to the chef, staff and manager John Doyle for their excellent sevrice and food.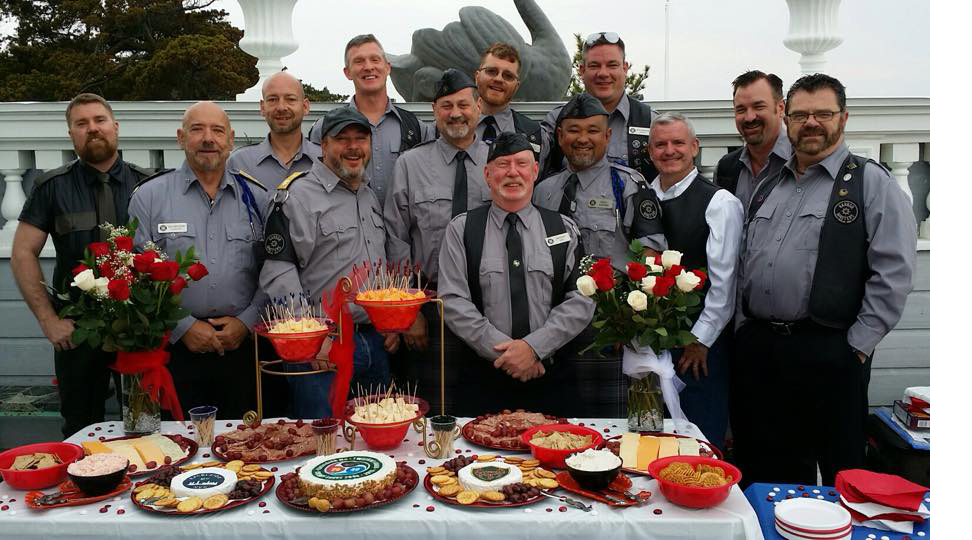 After a break for a costume change or a stop at Sweet Licks for a scoop of ice cream, the Island Breeze presented the 15th Annual Mr. Fire Island contest. Four competitors were judged on appearance and preparedness in dress leather: an interview, jockstraps, a Q & A, fantasy wear, and narrating or acting out a scene. Judges included custom leatherwear designer David Samuel Menkes, who has made sashes and vests for winners since the contest's inception; Mr. Fire Island 2004 Jeff Goodman; Mr. Fire Island 2007 Diego Vargas; Mr. Fire Island 2011 Danny Logan; Mr. Fire Island 2012 Mark Nayden; Mr. Fire Island 2013 Candido Soares; Mr. Fire Island 2014 Victor Skolnik; and Mr. Fire Island 2001 Bruce-Michael Gelbert. Mr. Gelbert did an excellent job organizing the contest with the Island Breeze after the Ice Palace, the customary venue, was knocked out of commission due to the fire. Though not directly damaged by the fire, in was still having some water and electricity issues during the weekend (which have since been resolved). Serving as tally master was Wendy Lewis. Providing entertainment between segments of the contest and the evening's host was Porsche, who sang a show stopping version of "I Will Survive" among other songs, and Bruce-Michael, singing "I'm Still Here," from "Follies." Singer Edd, from New York City and Cherry Grove, bested the three other contenders for the Mr. Fire Island Leather 2015 title, in his second year competing in the contest.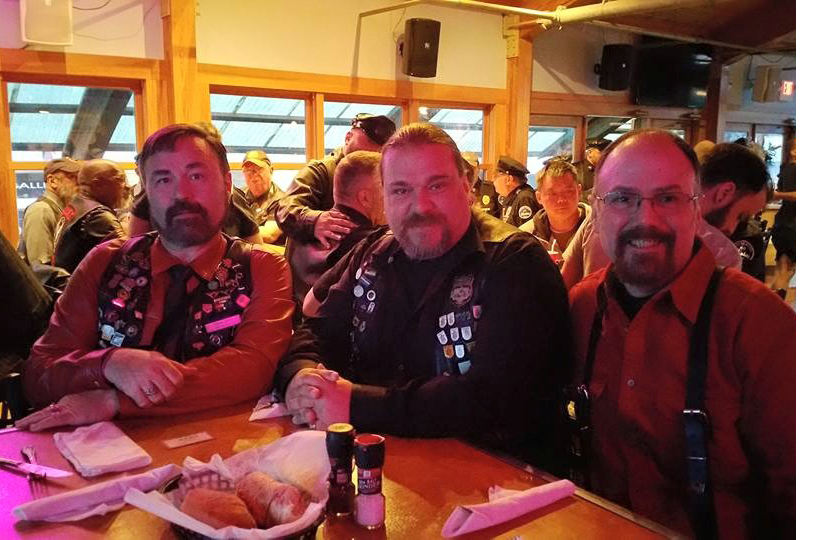 After the contest, attendees made their way to final cocktail party at the Belvedere, hosted by the Twilight Guard. This was part of Plan B; the club originally scheduled for this slot had to withdraw. On with the show! The Guard put on its usual spectacle of a cocktail party with lasers, strobe lighting and a 6-foot Chinese dragon. (Thanks to our brothers from the Centaurs for their laser projector). A good time was had by all, as some guests (of a certain age) played guess the Anime cartoon show, to the song that was blaring in the background. Also, the portable glory hole was open for business.
Sunday arrived, a beautiful spring day. All signs of storms and humidity had blown away with yesterday. It promised to be a good day for travel home. Closing ceremonies and brunch were held at the Island Breeze (our deep thanks to manager John Doyle for making Plan B a reality). Awards and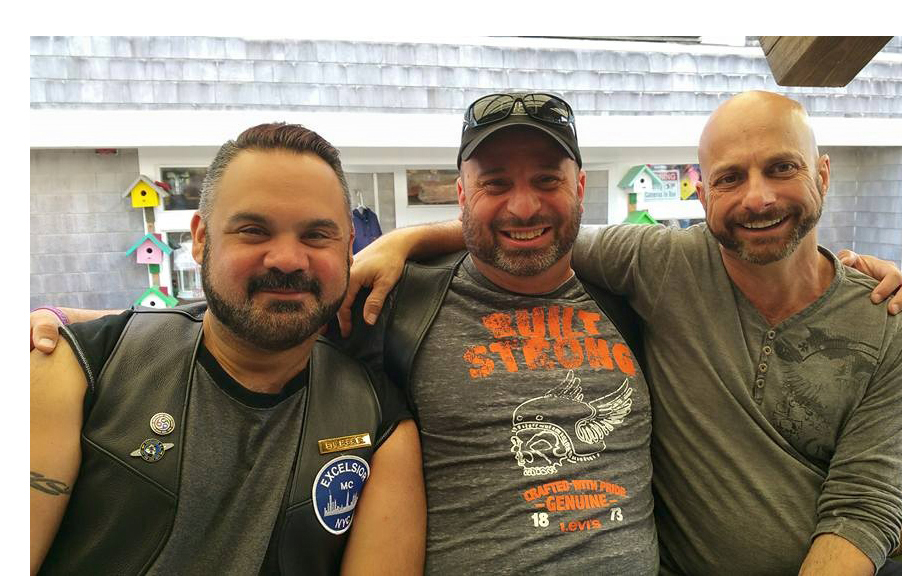 certificates where given out by Excelsior's President Victor and Vice-President Gabriel, and Twilight Guard's President Sandy and Vice-President Sean. Of note, the distance and participation awards went to the Harbor Master of Maine. Inducted into full membership in Excelsior MC were Daddy Chaz, Keith and Bruce, all whose pledge period came to a conclusion at the end of the run. New associates members where also inducted: Twilight Guard members Timothy R., Jack B. and Michael M. were honored with associate member status, as well as long standing council (of myth, lore and history) of the AMCC and DCBC member Paul Rose. Twilight Guard were also proud to invite three members of the Empire City MC to their associates ranks: Evil Ed, Chaz A. and Eddie M. Congratulations to all.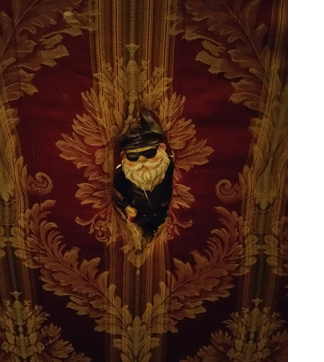 Joyful thank-yous were made to, and deserved by, the attendees and people who made Excelsior MC's 40th anniversary and Twilight Guard's 20th anniversary a weekend to remember. Its our attendees who bring the party and make all the effort well worthwhile. Excelsior announced their 2016 Lust for Life run, entitled "The Island of Misfit Boys" and subtitled "'The Lord of the Flies' meets 'The Boys in the Band'," which will take place May 20 to 22, 2016. Once again the Belvedere will be the host hotel. Reservations were being made as guests departed the island; the Dune Pointed reported they they were almost sold out for next year, and the Belvedere said that eighteen rooms had been booked so far. 2016 is already out the gates and shaping up to be a great year.
A KILLER WEEKEND
April 2015

It was a dark and stormy night, or that is how the tale is supposed to start. But instead Old Man Winter couldn't help himself but get one more storm in, and to make sure it had more then a hint of irony to it, it snowed on the first day of Spring!? What's next? Snow on April Fool's Day? Despite the weather, several Guardsmen made their way before and during the storm to Ronkonkoma for the Long Island Ravens MC 23rd anniversary weekend — "To Kill A Raven," a weekend of murder and mystery. The Guardsmen were not the only ones with tales of facing the unwanted winter squall. Tales of cancelled flights, stalled passenger trains and unplowed highways were related as leathermen and leatherwomen gathered together to begin the Friday night festivities.
After gathering their registration bags in Dungeon B (off to the left of the Hospitality room, Dungeon A on the right), attendees started to gather in the main room for opening cocktails (okay more like a Free-For-All open bar, but what the hell, we're all friends here) and Italian buffet, nothing like italian in New York (besides Italy, you just can't beat it). Soon after everyone had eaten their first helping, the game was afoot and the mystery was started with Joseph A (Vice-President of the Long Island Ravens and charter member of the Buttmunchkins) being poisoned and gurgling up blood in view of everyone. Shocking, poisoned and now dead in the Hospitality Suite, but who did it? Joe was soon taken away and cleaned up--nothing more of a turn off than a corpse in the middle of room--and the libations began to flow once more, with people glancing sidewise at who the killer might be.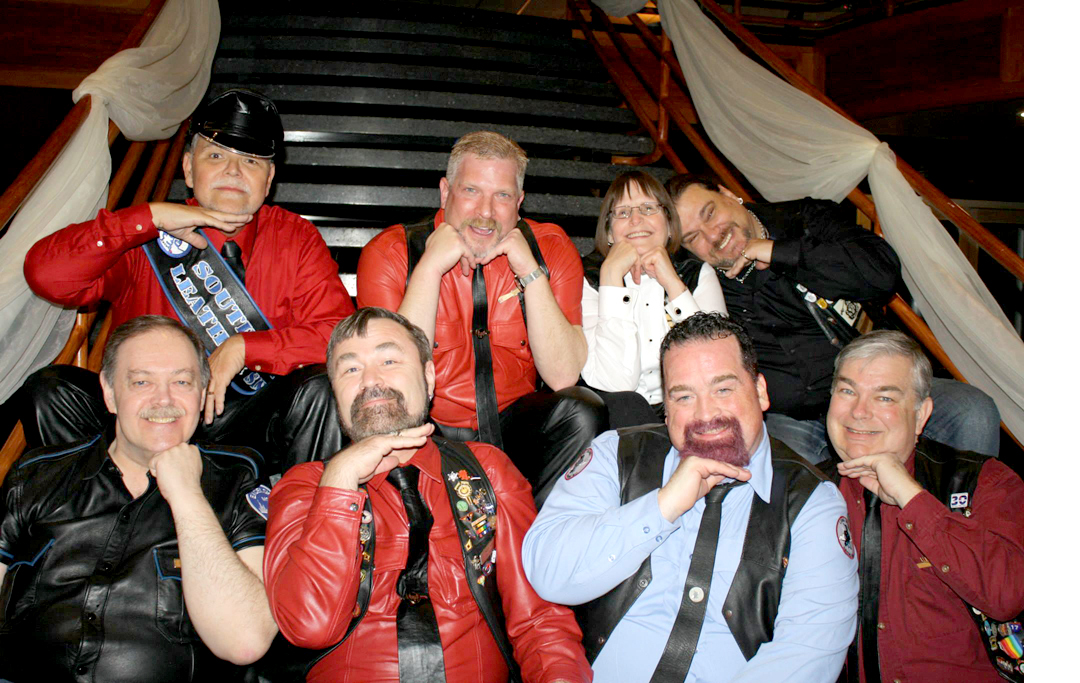 After strong-arming our way, and getting an early start on things, Twilight Guard's late night cocktail party began. Keeping with the weekend theme, the Guard presented guests with "Clueduh? the Bathhouse Edition," a twist on the classic Parker Brothers game "Clue?" (or "Cluedo" in the United Kingdom). It featured a poster-sized playing board with rooms such as the Locker Room, Jacuzzi, Dungeon and Shower Room. The story of the game is that Rent Boy Peacock has been murdered in the Bathhouse, but who did it? Was it Colonel Mustardseed (Africa was not the only place the Colonel liked to hunt for big game); Senator Whitehead (the Senator's foot wasn't the only thing he liked having in his mouth); Professor Sugar Plum (was he really an absent-minded bottom, or did he have a mind for murder?); Doctor Blackwell (no one knew the depth of his perversions); Reverend Green Knees (the parish garden wasn't the only thing he tended to on his knees); or was it Scarlet Mascara (Jungle Red wasn't only her favorite color, it was her life). The list of clues included the Ruby Stiletto, Ball and Chain, Feather Boa, Tailor Shears, Candelabra, or the Objet d'art (okay it an oversize chrome dildo, but it was, after all, a gay event set in a bathhouse).
Our intrepid detectives were sent off on a scavenger hunt across the three rooms to find clues hidden in plain sight. Though some did search high and low for clues in a furious nature, as one of our hosts put it, "I came in the room and men where scattered everywhere, bouncing around from room to room." We need to acknowledge one group of guys, and give them a round of applause for their generosity, Empire City MC, who actually put clues back after they had recorded them. The party kept going with guests compiling their clues, with a helpful dose of the guard's notorious punch "Eye of the Storm" and coffin-shaped brownies. After the game had settled down, Chaz of Empire City MC gave quite a scrotal saline infusion dungeon demo. The reveal of the Clueduh? game was made on Sunday.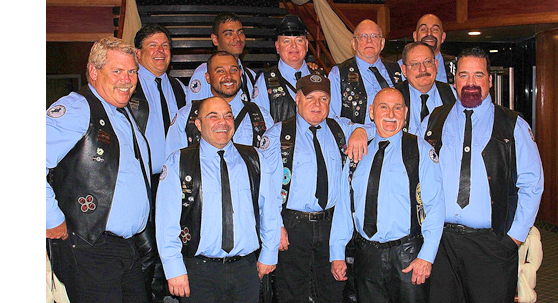 Saturday began with coffee and a lavish breakfast buffet, more catching up with old friends on the who, what, where and what not. The Ravens posted a list of (alleged) suspects to Joe's murder: Was it Jack (GDI), Tripp (Mid Atlantic Kennel Korp), Jed (the husband), Jo Anne (Pennsmen) or Victor (Excelsior MC)?. The rap-sheets of our murder suspects gave a few snapshots and short descriptions, but were there possible clues to be gained from the bios? As some pondered the questions and possibilities of mystery, we segued into lunch, which was thankfully light, since not many waistlines could take much more. And what but another murder at lunch! Yes, a second corpse was found by a Raven in Dungeon A, in the sling, no less, with a ball gag. Not a great way to die, but our suspect Jack did make a pretty corpse, so relaxed there in the sling. If he wasn't a cold dead body, you'd think he had just finished with some hot action (death by hot wax?).
After some quiet time (namely an afternoon nap, milk and cookies optional), it was time to join Empire City MC for their afternoon/pre-dinner cocktail party, which consisted of chocolate cake shots and apple pie punch. Refreshments were light, sugary, tasty, just the right balance for a preprandial cocktail. Also offered for our delectation were tasty bruschetta hors d'oeuvres. Cheers to ECMC; thanks for the boys and the booze! On to the evening's festivities!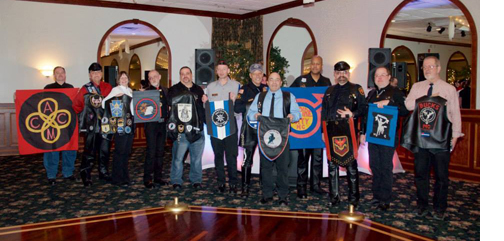 After a short, hilarious bus ride over to West Lake Inn in Patchogue, the dinner guests debarked to be greeted at cocktail hour with trays of champagne and umbrella drinks. The accompanying hors d'oeuvres offered were lavish, with Mediterranean and Asian Pacific specialties among many others. After cocktails and photo opportunities, it was on to the main ballroom for dinner, dancing, silent auction and more mystery. We took part in the Detectives' Ball whose clues were coded with colored bandanas! Well, it was a leather event, and what's an evening of leather without flagging one hankie or another? The reveal didn't come until dinner was served, preceded by the introduction of the host club, The long Island Ravens and the parade of colors which included representatives from Bucks MC, Centaurs MC, Defenders MC, Empire City MC, Excelsior MC, Harbor Masters of Maine, Iron Guard BC, Mid Atlantic Kennel Korps, Pennsmen, Twilight Guard and the AMCC.
The Long Island Ravens annual anniversary diner is the occasion where they honor and distribute to local organization charitable funds from their charitable efforts throughout out the year. This year's Community Service Award recipient was James Stewart of the Long Island Gay and Lesbian Film Festival. Other recipients of charity funds included the Long Island Gay Men's Chorus, Pride for Youth, Thursday's Child, Bill Borman Scholarship Fund, and the Long Island Community Fellowship. Raven of the Year was presented to LI Ravens Road Captain Vinny H. Congratulations to all recipients this year, and thank you for all the work that you do. After the charity awards were given out, another clue was revealed to party guests to deepen and confuse: Just who was the killer? Some more dancing, bidding on the many items available at the silent auction, and desert.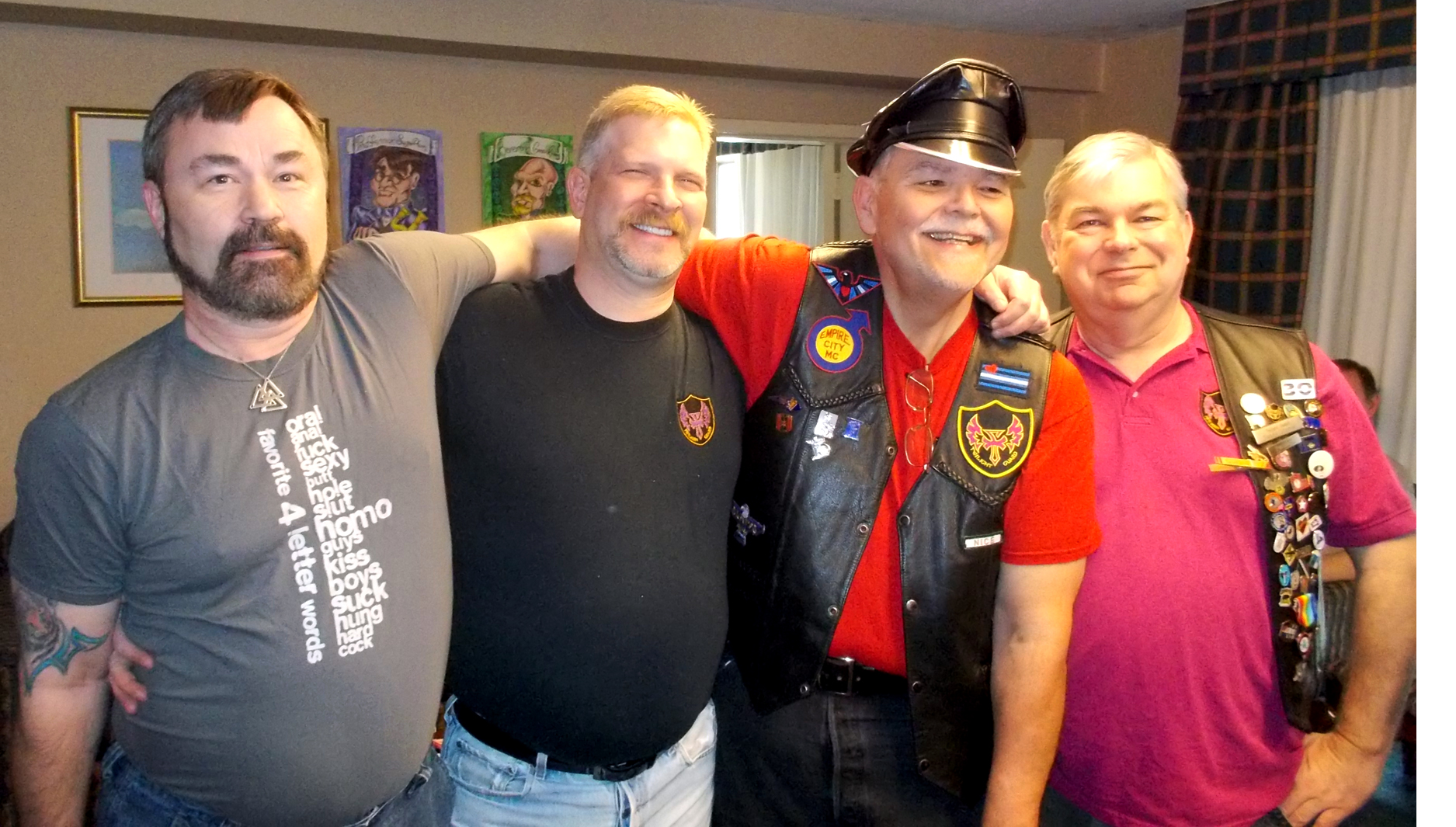 Sunday Morning came way too soon, for awards and goodbyes. Twilight Guard took home the award for best cocktail party and our reveal for the winner of the Friday's night Clueduh? game was Scarlet Mascara, in the Discotheque with the feather boa. We even gave a reason: Boy Peacock said she dressed like his great grandmother! That would mean certain death to any person saying that to a drag queen. The winner for the weekend mystery was the Guard's own Sherlock (vice president) Sean, who had figured out besides everyone guess that it was Tripp of the Mid Atlantic Kennal Korps was the Murderer. The weather had warmed up a bit, melting away Friday's snow, making for a clear and pleasant return trip home. Thank you Long Island Ravens for another great weekend; we'll see you soon.
FIRE IN THE GROVE
March 2015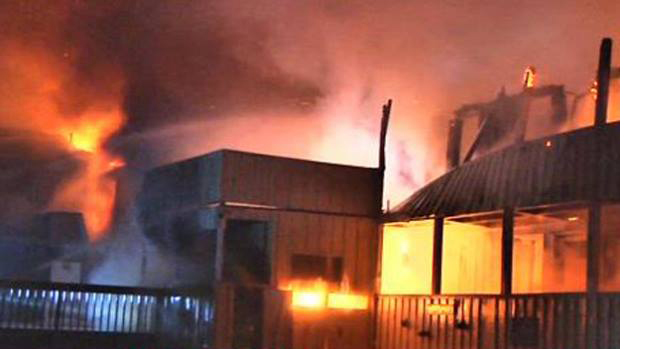 The Holly House apartment complex and the adjacent Grove Hotel were destroyed by the blaze, as well as two unoccupied homes. The very popular Ice Palace night club survived the fire and did not suffer serious damage.           
The Excelsior MC & Twilight Guard run: Cherry Grove 2040, is still on track.  We are reaching out to other Cherry Grove businesses, regarding additional accommodations for our run guests.
Please understand, this is an unfolding story. We will endeavor to keep our run guests informed with reliable updates.
https://www.facebook.com/events/663784403671476/
AND THE WINNER IS
March 2015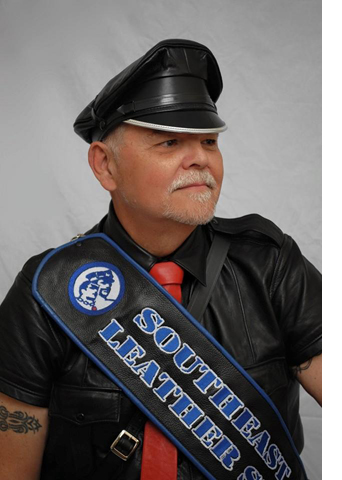 Twilight Guard is proud to announce the winners of the Southeast Alliance of Leather Announces Contest:
Twilight Guard opwn Michael M. earned the title of Southeast Leather Sir. Sir Michael was also awarded the Brotherhood Award.
The title of Southeast Leather boy went to Don Melville, of Atlanta, Ga.
Southeast Trainer for 2015 is Sir Rob Robertson of Charleston, SC.
The title of Southeast Puppy went to Pup Sea Wolf (Ryan Meyer) of Charleston, SC.
The group above will continue on to compete at ILSb-ICBB, in Dallas, TX. Over Labor Day Weekend. The Southeast Alliance of Leather is part of the International Leather Sir/boy (ILSb) and International Community Boot Black (ICBB) Inc. Over the weekend of February 27 through March 1, 2015, the competition was held in a Charleston, SC. at Connections a Night Club.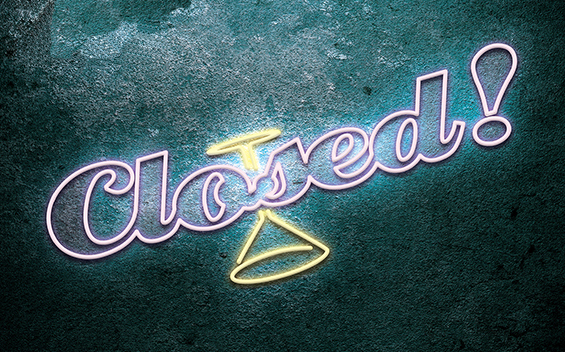 Unwelcomed News
February 2015
The bar we use to call home, has gone out of business, What seem a alarming trend across the country, has finally come to out own backyard, yet another gay bar has closed. Rumors had been floating around for some time now, and had only gotten more notice and a wider audience in the new year. And then the final word came, in pretty much the fashion we had expected, not a with a bang, but a whisper. In the early hours of Sunday February 22, Michelle co-owner of the New York Times noted institution posed to her Facebook account "It is often said that everything happens for a reason. 28 years ago Triangles Cafe opened it's doors welcoming a community of people who needed some place to be themselves. As time progressed the community grew as did the family that had formed within these walls. Triangles Cafe has meant a lot to many people and even though we are closing our doors permanently, know that the spirit of Triangles Cafe will live on in all of our hearts," and with that said, Triangles Café had closed it's doors for good.
It really should come as no surprise, patronage had been down since this past summer (of 2014), and this noticeable trend continued throughout the rest of the year. Where once there was hustle and bustle of men, where now open spaces of load music, with nobody to dance to it. Where once cars where park out on Route 7, because there where no other spaces to be had, was a open and ease of parking. What case this once vivid bar to become so abandoned? No real answer can be had. The simple one is, no customers, no income, no operating capitol, no business. They only thing that can be said for certain, Michelle and her staff held on until the bitter end, until there was no other truth to be had, but the final one, doors had to be closed and the "Sorry, We are Closed" sign when up preeminently.
Twilight Guard had moved it's events to Triangles Café in the fall of 2007, from Cedar Brook Café (Westport, CT), when it was clear that once hub of Connecticut gay night life was in it's death thrones. Triangles had welcomed us with open arms, Triangles had different owner back then, but even while ownership had change hands over the years, we where still continued to be welcomed, even when attendance for leather events had grown thin. The Guards is proud to have been there until the end, even if we didn't really know it was the end.
Twilight Guard would like to thank you for letting us call Triangles Café our home for the past nine years, we will miss you. TheGuard wish Michelle, Tim and all of the staff of Triangles Café all the best in the future, and hope to see you again.